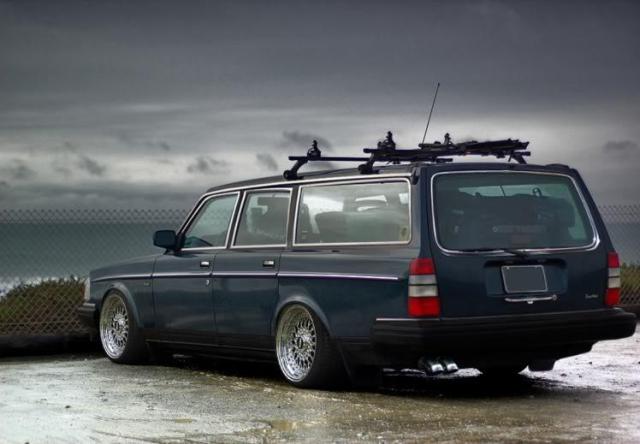 Modified Volvo 245 Turbo Wagon
Written by James Dolan
The Volvo 240 a classic? Well this Swedish brick has all the makings of a classic. For one thing the 200 series of automobiles were hugely popular cars for Volvo with approximately 2.8 million coupes, sedans, wagons and special editions produced from 1974 to 1993. Yes you read that correctly 19 years in production! The production run was so long that the 200 out lasted its supposed replacement, the 700 series that was production from 1982 to 1992. That is a pretty impressive run considering that the 200 series was basically the same car from the windshield back as the car it replaced, the 100 series that dated back to the 1960's. During the heyday of the 200 series you could have just about any combination of vehicle you could imagine. There was a body style, trim level and engine combination to suit any need, want or desire. Volvo offered anything from a sedate, practical family wagon to turbo charged sport models to luxury sedans filled with all the goodies. Just about every segment of the passenger car market was covered. But being popular does not make a car a classic.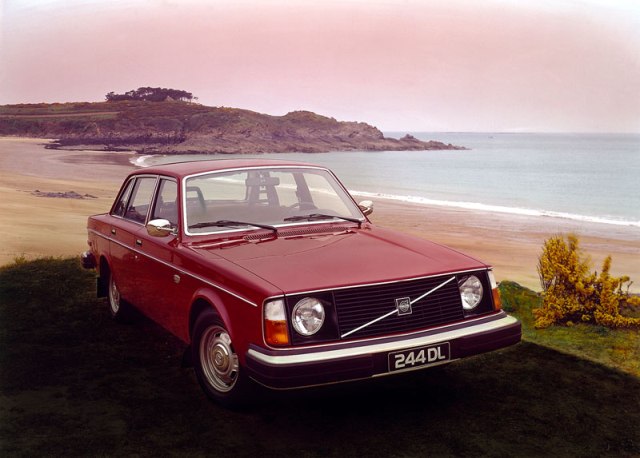 Mid 1970's Volvo 244 DL Sedan
Secondly this blocky Swede has had quite a cult following almost since its inception. This Volvo had been the choice vehicle for Birkenstock wearing college professors all over North America. The intellectual set viewed the 240 as a safe, reliable, economical and practical choice for their motoring needs. It also helped that it rode well and was immensely comfortable. What Volvo offered was a real alternative to the BMW's and Mercedes-Benz's of the era that were deemed to ostentatious by the well heeled or intellectual set. The blocky styling that Volvo had been criticized for was part of the appeal. Not only was it a practical design it also offered unparalleled safety at the time. And to some, myself included it was somewhat handsome in some styles and trim. But the Volvo was not only coveted by the professors at Queens, Berkley or Oxford, it also had a cult following with auto enthusiasts as well. Not only could this car offer years of trouble free service and legendary safety but this shoebox had some performance models that could make a 3 series BMW look rather silly on the road. The unassuming styling and reputation of the 200 Series made the GT and Turbo versions ideal vehicle for the enthusiast who wanted to go unnoticed by the cops.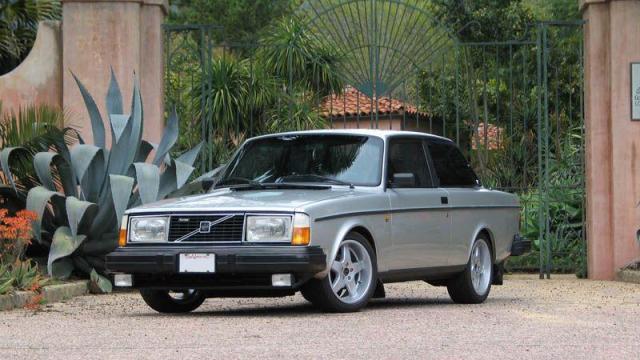 Volvo 242 Turbo
Thirdly the 200 is a perfect candidate for a hot rod or performance modifications. Because of the popularity of this model Volvo chose it as the basis for competition versions in Touring Car, Rally Champion Chips and other forms of motorsports all over the world. And because of the involvement in motorsports over the decades there is an abundance of performance parts available. But the goodness does not stop there, oh no. The brick like styling allows for quite a large engine bay, large enough for a big American V8 or a long straight 6. The engine bay is so accommodating that you could conceivably install just about any engine configuration. I have seen anything from Ford and Chevy V8's (there are installation kits available) to modern Volvo and BMW straight six's and highly modified stock engines with obscenely large turbochargers that appear that they will swallow up any nearby children or pets within 500 feet of the car when the engine is started. Not many other vehicles offer the same level of body styles, performance parts, and modification flexibility then this Swedish box.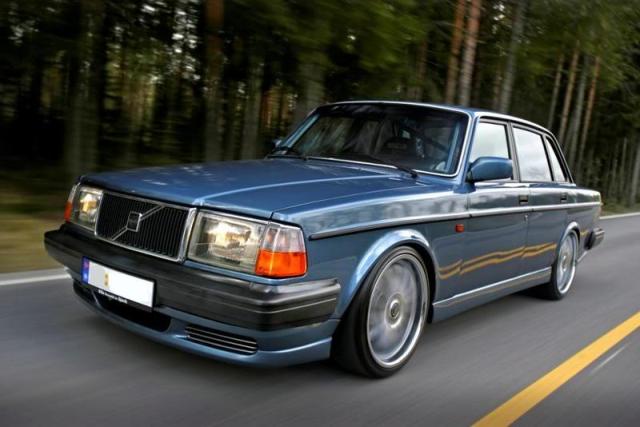 Modified Volvo 244
So we have determined that the Volvo was safe, popular, practical with lots of body configurations, smart people bought them and you can modify them into a Hoover that will suck up all the children and pets in your neighborhood… But does that make it a classic? Just about… What clinches the "classic" distinction is not the styling, that's for sure. But the styling can be over come with some modification and it does have a certain charm. The cherry of the 200 Series is the way it drives. I can tell you that I have never been disappointed when I have driven any model of Volvo. They are very sold, even with many years and mileage of use. A well maintained car will just glide down the road with extreme ease and comfort. Although it is a comfortable car with a great ride, it can still handle corners with complete dignity and lack of drama. Not like some other sedans with a good ride that will wallow, roll and want to fly off the road when there is a curve in the road. The Volvo doesn't even break a sweat. Volvo offered a wide variety of engines from 4 cylinder turbo and non turbo engines, V6's, and a turbo diesel. As an added bonus you can make your 200 suit just about whatever you want out of a car very easily.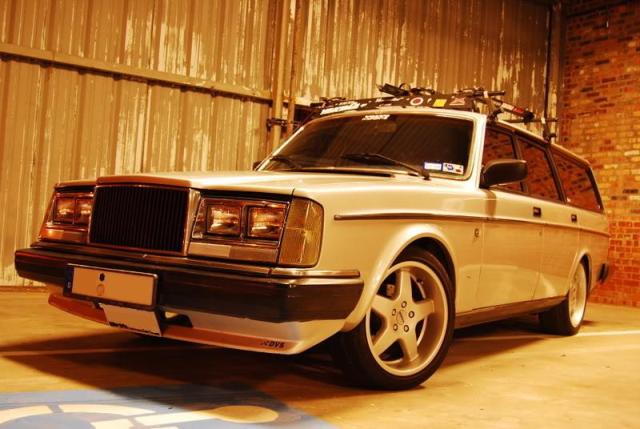 '80's Volvo 245 Turbo
Back in the 90's my sister owned a threesome of Volvo 240's of late 1970's vintage. She had a light blue 1978 244 GL fuel injected sedan with all the goodies including leather seats and a sunroof. The other was a very nice midnight blue 1979 244 DL sedan that you would swear was new. And my favorite and one of the three cars that made me upset when my sister sold it was a sliver 1979 242 GT coupe with all the performance options.
Driving the midnight blue 244 GL was a pleasant and relaxed experience, nothing offensive, yet nothing exciting either. It was the stereo typical Volvo you could say, the college professors' car, something of a geek mobile if you will. Just put it in top gear and let the highway miles slip away quietly and economically. The car had a certain charm about it, I can't put my finger on it but you just felt good driving it but with out the guilt of driving a Benz or BMW. The other drivers on the road won't hate you; most will just feel sorry for you because of its looks. But they don't know the great qualities that this car possesses.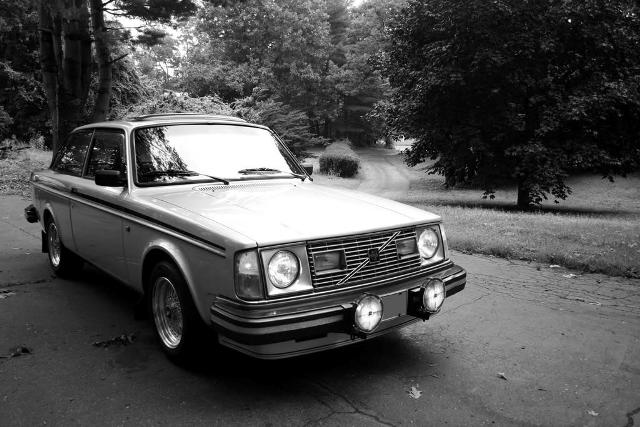 Volvo 242 GT
So if the 244 DL and GL sedan was an intellectual's wet dream then the 242 GT coupe was the wild child of the family. Driving my sister 242 GT was always a treat. Unlike the 244 DL the GT had a throaty exhaust note and extra pep from the fuel injected engine, a lowered suspension and larger wheels and tires that allowed the brick to hold the road with the best sports sedans of the time. The interior had a smaller diameter steering wheel then the standard Volvo and a short throw shifter that added to the athletic feel. The all back interior had a corduroy type material on the heated seats with orange accents down the middle and along the dash.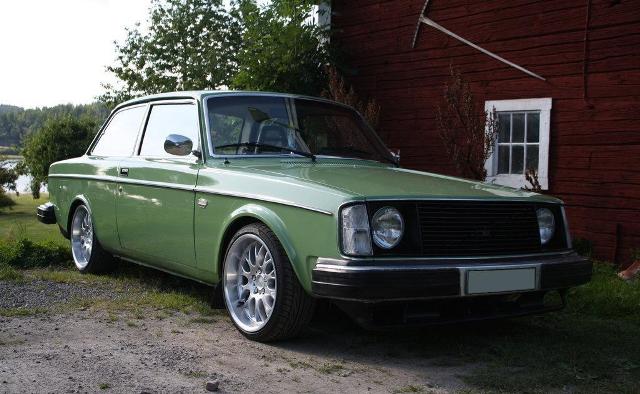 Modified late 70's 242
Dare I say it was a treat to drive? Sure I'll admit it, I loved driving it. The GT would sprint away from a stop light with ease and was a pleasure to row the shift lever through the gears with a light positive feel. With a lower suspension the GT rode more firmly than the DL but it wasn't objectionable. However when it came to a curvy road the GT was a complete joy. You could charge down a country road listening to the throaty exhaust, going through the gears and attacking corners all the while having a smile on your face. It really was a pleasure to drive. In fact I adored just about everything about it from its simplicity, practicality, the driving experience and its looks (gasp)! The 242 GT was a driver's car and for me the 3 box styling added to the charm and appeal of the car and there is just something special about a nerdy car that will put a grin on your face.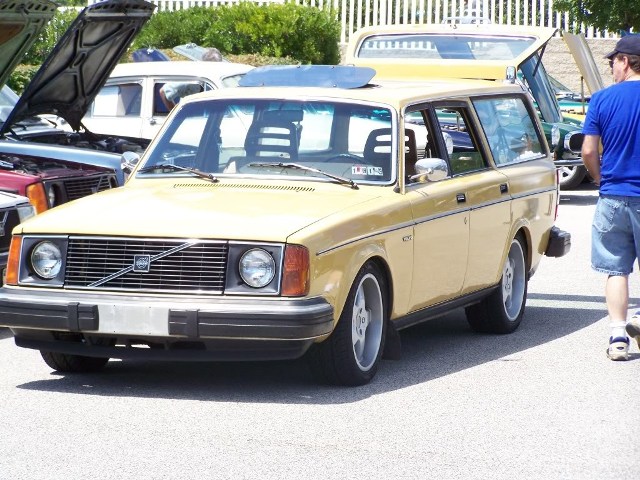 Late 70's 245 Wagon
So is this Volvo a classic? Definitely yes! I can totally understand why the 200 series has such a cult following in the classic car world. There are some very tasteful, well restored, sorted and modified 240's out there. Best of all they are as relevant and useful today as when they rolled off the production line. As an added bonus many of them were assembled right here in Canada, something else to be proud of. But best of all, it's something different and being different counts for something even if it is a little geeky.